About RSR Revalidatieservice
As a provider of assistive aids, RSR Revalidatieservice supports mobility and independence. The guiding principles are: everyday, reliable and locally involved. This means: 24/7 availability to help customers at home or on the road. RSR Revalidatieservice provides mobility scooters, hand-driven and electric wheelchairs and bikes. RSR also maintains devices and adapts them as necessary. RSR works with local customer locations that are supported by the Service Office in Duiven.
Locally involved
From its mission standpoint of "everyday, reliable and locally involved", RSR Revalidatieservice considers its visibility and presence around its clients to be powerful. That's why they always work with fixed teams and points of contact for customers and clients. RSR has also opened locations throughout the entire country. Healthcare institutions (Wlz) and municipalities (Wmo) are served from these locations. In addition, RSR is the national supplier of resources to the UWV and maintains a healthcare office depot for the West-Brabant region.
Discover RSR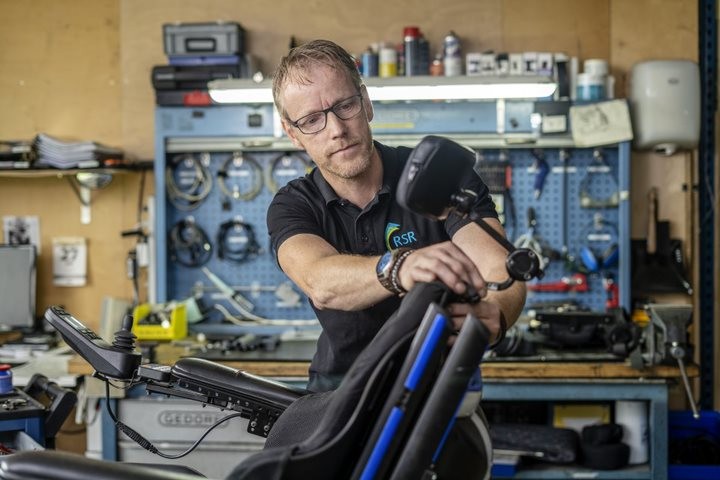 Sustainable partnership
RSR Revalidatieservice aims for long-term relationships with clients so that the collaboration can grow into a sustainable partnership. By putting heads together, sparring and consulting, the joint client is 100% paramount and the best solutions arise.
With this close collaboration, RSR is continually searching for ways to both gain and share knowledge. In that context, they organise meetings and seminars multiple times each year about various topics in the assistive aids sector.
"RSR is committed to people with limitations. RSR wants to ensure that these people can remain as mobile as possible."
— Remco Bervoets, Director of RSR Revalidatieservice